NeBD = New eBolt Day!

For the want of a SD lil '59 in the neck of a Bolt I procured this re-bay'd Carvin Bolt.
Not too bad at $450, but then another almost $300 for p/ups and hardware I planned
to change out - since I cant leave anything well enough alone. I had thought about a
new Bolt, or even a Bolt kit, but options would've put either in the $1k to $1500 range.
A bit steep for a p/up experiment.

So this -






Plus (some of) this -
(Black hardware, pickguard, M22T, SD lil '59n...)





equals this -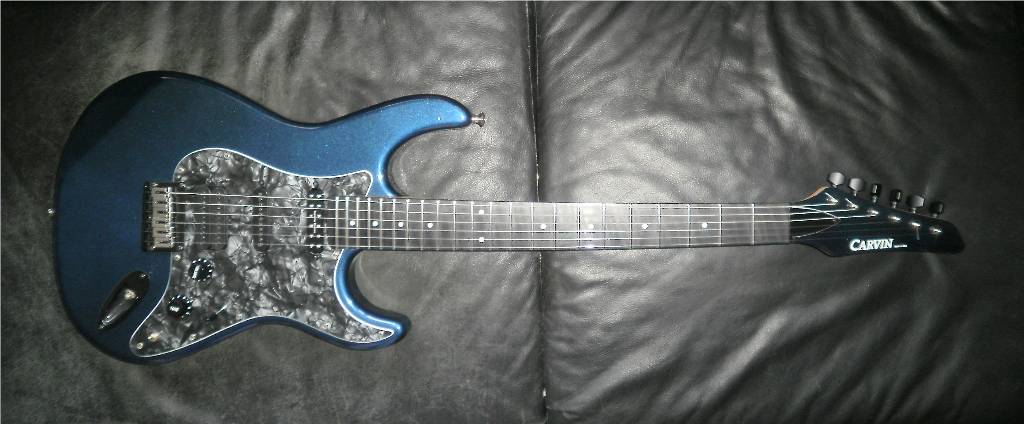 Some story -
(This came into the world, well adopted, kicking and screaming ...)

This was a re-bay'd Bolt by somebody in SoCal. I don't mean to niggle, especially since I was going to hack into this thing anyway, and the price was OK. But as typical some details weren't accurate (being a Carvinite, we recognize these things), but some of it was under the hood, so no fault, really.
It came with dings, but pix of them were supplied in the listing. Doesn't matter because I added my own anyway.
It listed as "working" condition. The coil tap was intermittent, and cut out occasionally in HB mode. I rewired it anyway, and used the other side of the mini switch and it appears to be OK.
It listed as a C22B, but when I popped the hood, it turned out to be not only a C22T (label on the p/up), but an old 3-lead (no green tap) p/up. P/up swap looming anyway.

On the plus side, a previous owner replaced the normal tuners with Sperzels. Unfortunately, this turned out to be an "oh ****" moment. I picked up a black set of sperzels from the bay, along with black hardware from Kiesel. When I removed the chrome tuners, the guide pin, which is supposed to go about 1/16"+ into the body, popped out of 5 of the tuners and were stuck in the headstock!!!
Not only stuck, but FLUSH with the headstock. I have NO IDEA how that can even happen??? And this was the first thing I attempted to change out.
How do I get those OUT?!?! I tried an EZout type of extractor (or GrabIt?). My 2nd use of that and neither one worked. I tried shoving items in the pins - small screw drivers, a nail, ... and pry the pins out. NOPE! Wouldn't grab. The nail came the closest as it grabbed, but using the claw end of the hammer pulled the nail w/o the pin, still!!

Oh yeah, yes, I was pounding a nail into the headstock with a small hammer!!! Somethings not right when it comes to that.
Had to go all caveman on this thing - took almost all day. Nothing was working.
So ... After trial-fitting the new tuners, I decide to go the other way, and pound those pins DEEPER into the headstock with hammer and nail. (I dont even have any nails around, found some around the yard since I had my roof done a few years ago.) I was so sure it would split - pounded my hand a few good times too. But y'know what - it worked - FINALLY!!! No splits in the wood.

Putting the jack plate in, I managed to scratch up the top near the top screw. D'oh!!! That was just stoopud.


The bridge took a while to set the string height and intonation. I used my purple Bolt as a guide for measurements.

Now, the pickguard. I did not like the ebay pix with the black pearloid PG - even tho it is the older one with a black/grey mix vs the later ones that were more black/silver. Going by my purple Bolt I fully planned on changing out to a plain black PG.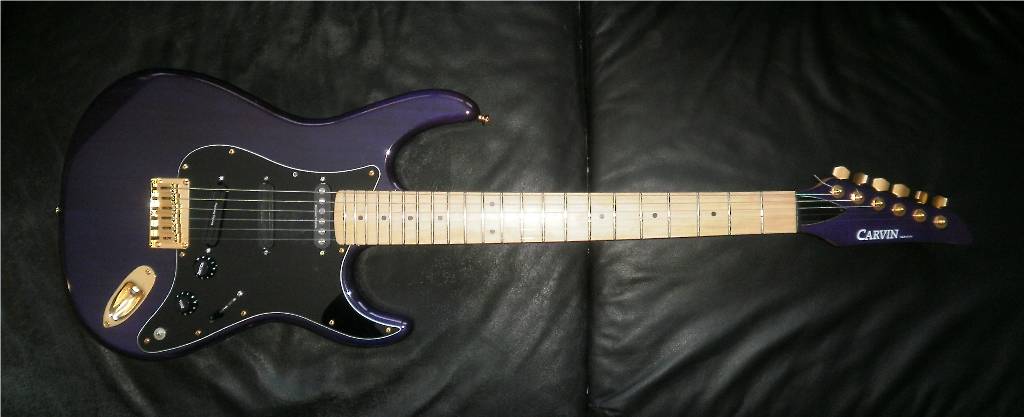 However, I took the knobs off and test-fit the new one (which I hope has a plastic covering - 'cause it is scratched to hell), and really did not like the plain black. I preferred the pearloid, as the greys in it - in person - go well with the older deep pearl blue.

Also, regarding the color, I have 2 other deep pearl blue guitars and this has much more of a blue base color (the others go too far toward black, IMO). So I like the looks of this.


P/ups -
The M22T is what I expect, maybe a bit brighter than I was expecting - but in a tighter tension 25.5" scale guitar, it can tend that way. My ash Bolt is kinda that way too.
The SD 59 -
I have the full HB in my purple CT3, and LOVE it! Hence my itch to try this. This one has a similar tone - smooth deep end, nice bright top end, but not as much output as the full HB. It also has a bit more low end emphasis.
The middle is an AP11.

Wiring -
M22T / AP11 / SD '59.
M22T auto-tapped to use top coil when middle p/up is used, via 5-way switch.
Mini sw = include bridge (aka "always-on").


With the FT6 set up pretty well, and a bit of truss rod adjustment, this is playing pretty darn good. I think it came with a 942 set (D'ad obviously) as it felt kinda slinky, and I changed to my preferred D'ad 1046 set. Also - fun fact : This is my 2nd non-new Carvin (Kiesel), and the ser#s are 80 apart - and that Bolt+ is a 2002, from the Carvin Museum. So for a circa 2002 guitar, it took a caveman pounding and after a setup it plays very well!!