What do you guys think.. most builders delete pickguards when the axe they're completing has a lot of figure. Mark made that call specifically on my 150, on a guitar where about 97% of them were sent out with pickguards, at least during the pre-87 set neck period. And I agree totally with his decision, I've never once thought of putting the pickguard on that guitar. (Random pic I just put on FB, but shows the color of the body wood of the axe)
On the Northen Series Hags, the builders and Hagstrom Sweden deleted the pickguard on this "flame" version of the Super, apparently to allow the figure to show itself freely.. and the plain top burst had a pickguard: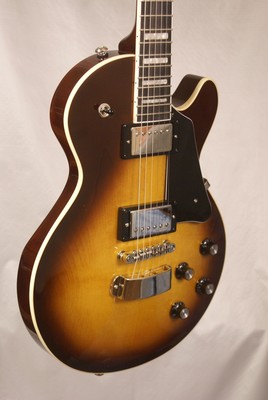 The reason I bring this up is because this prototype has a feature about it that I really love, that the other flamed and plaintop trad burst models
didn't
when it actually went into production: the prototype burst is a darkback. (it also has flamed maple binding on the neck which the production models didn't have, they just had standard plastic binding... the body has a binding "effect" using the same masking technique on the thick maple top that Kiesel uses on their guitars , rather than using actual plastic around the body.. the neck is mahogany so the maple binding on the neck is legit applique binding made of wood).
The darkback combined w the black hardware and a black pickguard is a wicked looking Les Paul layout, and its probably my favorite "classic" design, really only matched by a well aged honeyburst legit 1959 w aged white plastics.
But those rare 1957 gold top darkbacks w the black hardware, they're just wicked:
So the question is, if you were me, would you add the pickguard to bring out the dark back and the black hardware? I've got to think hard because I naturally would have to mount it with screws and that little brackety metal mount. So I'd have to screw into the wood on the maple top.
I just love this black hardware/burst vibe, almost as much as the goldtop darkback vibe:
Anybody think it would look better WITHOUT the pick guard, ie keep it exactly the way it is?